If you ever wondered how important reviews are then here are a few excerpts from commercial research:
A one-point increase in a hotel's average user rating on a 5-point scale (e.g., from 3.8 to 4.8) makes potential customers 13.5% more likely to book that hotel (Cornell Univer)
More than one third of consumers will not book a hotel room without reading reviews. (Laterooms.com)
53% of TripAdvisor users say they won't book a hotel if it has zero reviews (PhoCusWright)
On Expedia.com, good reviews of 4.0 or 5.0 generate more than double the conversion of a review of 1.0 – 2.9," Jennifer Davies, Expedia
An analysis of over 90 million reviews across more than 65 OTAs and review sites showed guest feedback is mostly positive. 60% of comments were positive, 28% were neutral, and just 12% were negative. (Review Pro 2011)
75% of people don't believe that companies tell the truth in advertisements. (Yankelovich)
As the quoted merging of the hospitality marketplaces happens we can expect more pressure on the review mechanisms in the VR industry especially as these are used to maximise the monetisation of bookings by the more time established OTA's.
The systems currently in place to manage reviews and for guests to subsequently see them on-line, certainly reflect the challenges the marketplaces face.
The hotel review (& booking sites) behemoths such as TripAdvisor, Booking.com, Expedia, Hotels.com etc. all rely on direct guest online feedback. As they are agents and distributors of information this also removes them from liability of the actual posting but the review industry is influential however and affects millions of decisions daily.
This graphic from the CMA shows how large a segment of the review industry is in the hospitality sector and the total spend related to the review, names, sizeable businesses and therefore the number of guests targeted for reviews is high and the data easier to rationalise statistically.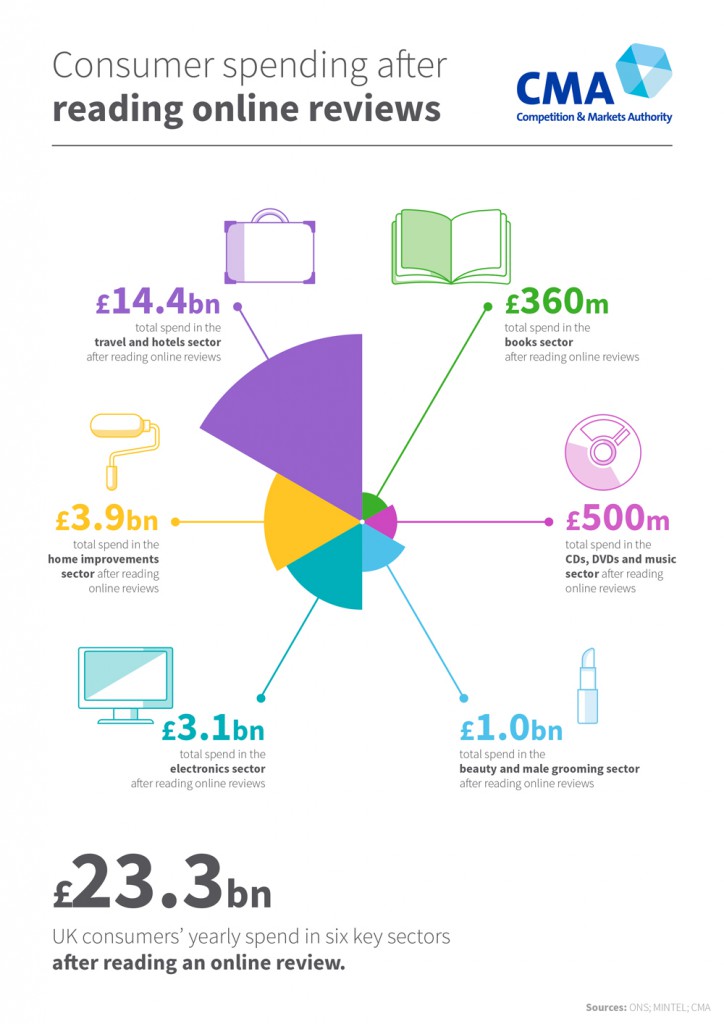 Identifying how significant the reviews are in the vacation rental sector means analysis of data.
Statistically significant information needs to be based on the volume of recent reviews from a broad cross section of travellers. Accommodation can change hands, can suffer local environmental impacts, and can see changes in management and other business factors affecting their reputations. Reviews to be relevant therefore need to be current and volume based.
This is yet another area where harmonisation of the marketplaces sees friction and historical hotel practises do not meld to the new world so easily. A serviced hotel room is a long way from renting whole house miles from anywhere! The middle ground is seeing a blurring of accommodation with more focus on accommodation and less with on-site service.
Case Study
If we take an excellent local hotel to us: The Lincombe Hall Hotel, which has 44 rooms at time of writing has 564 reviews on Booking.com and 419 Reviews on TripAdvisor.
[mailmunch-form id="104857″]
Checking through these reviews they seem to be up to 3 years old and we would expect occupancy will be above the English local average of 73%, so let's say 80% due to its above average reviews. The stay duration is hard to ascertain but as this is a holiday resort it is likely to be in line with the local stats of an average of 4.5 days. This would indicate that the total number of "stays" is 365*80% = 292 days per room or 12,848 room nights per year. This is 2,855 guest booking stays per year at 4.5 days average stay.
This equates to 6.5% of people leaving a review over a 3 year (8565 room nights) period. This does assume each room had one guest of course! The % would be considerably less when couples are considered. It also assumes 100% booking on BCOM and TA. The hotel do defer their reviews in their own website to Trip Advisor, who via the link offer to book it via 5 OTA's. Possibly not the best strategy for their own website really!
Now consider a holiday apartment in this area or a cottage. With an average of 180 nights booked at an average of 6.8 nights. This results in just fewer than 80 potential review stays over 3 years. At 6.8%, this would be 5.4 reviews over the 3 years. Not terribly significant especially as many businesses who list on multiple OTA's see less than 50% of the bookings from these multiple platforms. The review numbers will be vanishingly small and of no real relevance or help to guests.
Checking this analysis on the various OTA sites for vacation rentals and we see 90% of properties show single digit reviews only and many with only 1 or 2 reviews.
This may be due to the growth phase or the fact that the industry needs to approach the review system differently, but the booking volumes per property are surely an indication that the hotel model is not as effective.
AirBnB Way Ahead
The one company that has it sorted is AirBnB. The system is more effective at generating online reviews for all manner of reasons:
You must book and pay through them
Its a host and guest mutual review society
City stays, where a lot of inventory is based sees shorter and more stays
Their "approach" is much more "personal"
Shared houses are the core inventory
Guest Books
The traditional way of leaving a review and still used globally is a "Guest Book". This not only allows the spirit of the moment review, but gives guests the pleasure of seeing previous comments and even identifying local spots to visit, restaurants and other hidden treasures.
Over recent years these owner and manager reviews have slowly been removed from the OTA sites to be replaced by their own systems. These "of the moment" reviews have been transcribed from books and from emails received from guests and are not available pre-visit from the search dominant sites.
If we look at a few of our owners guest books from this year, the contribution rates are as high as 75% and if all were published would be significant.  Many owners will not bother to publish now as they are seen less frequently and not allowed to be displayed on the major advertising platforms. Even reproducing them on their own sites is less popular as the traffic from search drops to smaller self maintained sites.
Only Good Reviews
We do of course all know the issue. Owners and managers will not post bad reviews or ones that denigrate their holiday home. Is this good or bad is the question? We have seen online reviews of our own where the accommodation has been excellent and service commended, but it rained all week, so a 2 star rating not a 5 star for the holiday!
A very quick search soon reveals the thousands of great reviews on owner's websites still and its great to see people proud of their businesses. This was the very first one I stumbled across:
http://www.roundhousecornwall.co.uk/guest-comments/
Take one of ours specifically:
http://www.discoveryholidayhomes.com/popupreviews.aspx?p=1878 which is from "The Lighthouse Torquay"
If you search for this term on Google you will see the following results: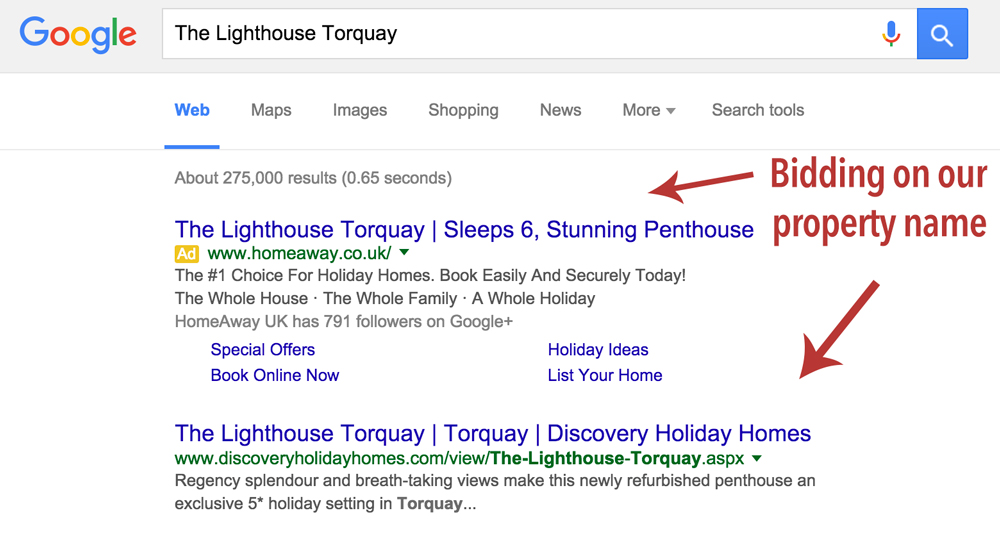 HomeAway comes top based on PPC (for some bizarre reason they have bid on our property name and these are subscription only).
The listing shows:

If you click on "About Sue" some of the reviews are revealed. This is hardly obvious to the general public and a token gesture only for hidden content by HomeAway.
As we run "enquire only" and do not have Book Now (except on our own sites), no knowledge of the booking is imparted to HomeAway and hence no requests for reviews can be sent.
This poses two problems. Our owner's great reviews cannot be seen by potential guests and HomeAway cannot rate and categorise properties by reviews as they are not independently supplied.
The answer is to ensure all communications and booking process are on-site but will still will not provide large numbers of reviews unless guests review predominantly on one site.
Most commission booking orientated owners or managers will use more than one channel and hence booking review volume is again diluted.
Another issue is that to use the system where data is imparted to the OTA, then the drive is to suck more commissions and use the guest data for future targeting with other properties. None of which are very helpful to an owner who has invested in getting great reviews.
Independent Review Sites
These are on the rise and are more truly independent. FeeFo, and TrustPilot for example show a company's ratings, but not their inventory in detail.
It does make interesting reading to look up the OTA's on the independent sites! These snapshots are from TrustPilot and would seem to indicate that not everybody agrees with the hype!
Major marketplaces on Trustpilot





TripAdvisor 9.3!!! (Check out "Fake Reviews" below)
TripAdvisor is of course the main name in the industry but cannot be considered independent as they are essentially an OTA. The number of people who use the site purely as offensive reviewing rather than objective detailing is growing in numbers and is now a blackmail standard. This link to a BBC article which refers to the "Competitions and Market Authority" who have been made aware of misuse of review sites:
Online reviews used as blackmail: http://www.bbc.co.uk/news/business-33184207
Who Is Likely To Leave The Best Reviews?
This really needs volume data and will have a number of variables, however AirBnB have done some number crunching and produced some interesting results. Their numbers show that:
Youngish guests and males give better reviews.
Older hosts and female hosts get better reviews.
Earlier booking correlates with better reviews.
Smaller groups tend to give better reviews
There are some obvious potential correlations here, such as earlier bookings as these guests in our experience do their research and book the best well in advance.
It does make interesting reading however: http://nerds.airbnb.com/most-hospitable-cities/
AirBnB does seem to have a higher level of "goodish" reviews anecdotally when we looked at it.
The rating system on AirBnB is generous probably because people act out of fear of rating retribution. This means guests are discouraged from leaving honest feedback (under four/five-stars) because they are afraid that the gesture will be returned.  Since the system is built upon achieving a top reputation, most people abide by the philosophy, "If you don't have anything nice to say, don't say anything at" all" would seem to be the message. This trend creates a system of overrating and under-reviewing.
How To Tell The Fake Reviews
Sometimes it's obvious, sometimes not, but the net has lots of advice on how to spot the fakes and a rich history of those being caught.
Investigations by Govt. authorities are beginning to take place as the complaints increase:
https://www.gov.uk/cma-cases/online-endorsements-potential-non-disclosure
The clever chaps have also been creating tools and writing reports to identify those fake postings, the following link provides a tool that will "help" identify the fakes. Invented at Cornell University it does give interesting results.
A few thoughts on spotting them or if you are thinking of writing them!
A lot of superlatives and not much description. Phrases like "a must-read" and "life-changing" are giveaways.
References to other people such as "my family" or "my husband." Keep in mind, if the person writing the review is making it up, the story tends to stray farther away from the actual product.
More frequent use of the first-person singular. Fictitious assessments tend to include the words "me" and "I" more often, as if to make the review seem more credible.
Exclamation points and positive emotion. Truthful reviews use other kinds of punctuation, including the dollar sign.
People who have written only one review on the site
People who write only five-star reviews
Reviews that sound like a marketing brochure from the company or use the full official name of the product
If you would like to see an extensive list of fake spotting advisory points check out this link:
http://consumerist.com/2010/04/14/how-you-spot-fake-online-reviews/
The simple answer is to take reviews with a pinch of salt. Consumer product reviews that number the millions and with independent qualified consumer reports are more likely to help, but a vacation rental is a subjective moving target.
The answer to determination of whether a rental is correct for a guest is to cover all bases. Read the content, read the reviews, call the owner, email, ask questions. Some properties are "graded" by national or local authorities and will give them a rating. These are based on standardised amenities and presentation, but are again subjective.
Reviews work, referrals by friends work and as we move headlong toward a more social media world, research may well gravitate to this media more effectively and by a means more controlled by the inventory manager and not the OTA.
Comments