Have you read your OTA terms and conditions?
Education is when you read the fine print; experience is what you get when you don't.
All owners and managers should have their own booking "Terms and Conditions" set within the OTA dashboards, that are guest facing and apply to bookings made on these sites.
Most managers and owners try to make these as close to their direct terms as possible, despite attempts by an OTA to convince property suppliers that it's much better to have much more lax terms.
Your Agreement To Comply
There are however terms and conditions that a manager or owner signs up to and agrees with when signing up to an OTA's service. These terms control your opportunity to book. We can expect these to become more favourable and demanding in coming months as rentals are more complex than hotels. The terms complied with are then applied to the guest's booking opportunity and it is these which need watching closely.
Already we have seen the OTA's changing the rules for guests and themselves which impacts an owners and manager directly, often without notice.
Guest Centricity
Every manager or owner needs to be guest centric, with a keen personal approach to enquiries and bookings. However each property has both financial and logistical management restrictions when it comes to making a booking. These restrictions are hard to manage in any other way and are one of the immovable objects that constantly irritate OTA's and reduce booking opportunity.
OTA's are thinking "guest centricity" only (a holiday home is merely their volume but unique product(s) and is a marketing/transactional platform, no more, no less. No property knowledge, no personal contact with guests, no local knowledge, nothing except the written word online.
What they seem to miss is that currently they are not a guest centric, just search dominant. They are neither "Customer" nor "Product" centric. Without going into further detail this article on LinkedIn Pulse highlights the issues:  http://bit.ly/238aFJy
1. A product-centric (competitor) focuses on one product at a time and tries to sell that product to as many customers as possible.
2. A customer-centric (competitor) focuses on one customer at a time and tries to sell that customer as many products as possible.
[mailmunch-form id="193298″]
In case one, the product can only be sold a limited number of times in any one year, in the second case each customer generally only buys one product a year.  The real problem lies in modifying or re-inventing the product to match the created customer expectations. This can be manipulated to some extent by changing the Terms & Conditions.
Friction
In their business however, which depends on traffic and conversions, they will study the "look to book" path continuously. The friction caused at specific pressure points in the on-line journey will be addressed and adjusted accordingly reducing the barriers to booking. The immovable objects mentioned above are the brakes on the journey.
In the rental world there are many more challenges automating a rental booking and pushing a single expensive capital marketed as a low cost, instant book, short stay opportunity.
Samples
These are extracts from some well known OTA's that have made ingress to the VR world and see a lot of complaints from guests (not to mention owners).
The GUEST BOOKING TERMS which are seldom read by guests are part of the booking contract and in the event of any dispute must apply. There is however a rift valley size discrepancy in perception of what many people book and what the terms actually are.
The OTA site marketing is mainly responsible for this with highlighted messages that apply to some of the bookable inventory but not all, and some specifics the detail of which can go unnoticed unless the actual terms are read. Often these terms are highlighted by a small icon or are simply a hard to see link at the payment stage.
The extracts below are from this link: – http://www.booking.com/content/terms.en-gb.html and some of the guests actual beliefs:
Representation
By making a reservation through Booking.com, you enter into a direct (legally binding) contractual relationship with the accommodation provider at which you book. (From the point at which you make your reservation, we act solely as an intermediary between you and the accommodation,  transmitting the details of your reservation to the relevant accommodation provider and sending you a confirmation email for and on behalf of the accommodation provider.
Guest belief
(I booked with Booking.com not you!)
Each accommodation provider remains responsible at all times for the accuracy, completeness and correctness of the (descriptive) information (including the rates and availability) displayed on our website.
GUEST BELIEF
(Are Booking.com responsible for their website content. This is potentially a dispute area as BCOM do re-write content)
Price
We want you to pay the lowest price possible for your stay. Should you find your accommodation, with the same reservation conditions, at a lower rate on the Internet after you have made a reservation through us, we will match the difference between our rate and the lower rate under the terms and conditions of the Best Price Guarantee.
Anyone concerned about this should read this opinion:  http://bit.ly/1IibzcQ
Commission
Accommodation providers pay a commission (being a small percentage of the room price) to Booking.com after the guest has stayed at (and paid) the accommodation.
Small means by definition: insignificant; unimportant.  Is this 15-20+%?
Cancellation
The general cancellation and no-show policy of each accommodation provider is made available on our website on the accommodation information pages, during the reservation procedure and in the confirmation email.
Which hardly anyone reads and generally skirts over. There is a lot of research on how many people read terms.  This Guardian article shows over 73% don't read them and these are often for much more long term agreements:  http://bit.ly/1iiZLp7
In 2010 retailer Gamestation chose to change its online agreement to something a little bit more risqué. It was April 1st but no-one really noticed!

"You agree to grant us a non transferable option to claim, for now and for ever more, your immortal soul," it read.
Establishing Guest Trust:
This is created by clever statistical marketing especially, such as  "Free Cancellation on Most Rooms".

or best price guarantees:

with drivers to push past the fine print quickly.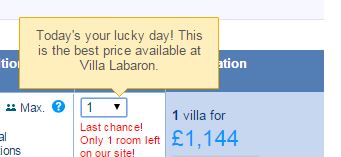 such as which icons hide the terms. Its the: ?

Other Extracts
If you sign up to these OTA's, then its a legally binding document and subject to the law. These days the law relies on who has the most money and lawyers.
Here are some interesting extracts from owner agreements:
HomeAway reserves the right to change the applicable Commission, with any changes to be notified to the Owner 30 days before the new Commission is applied. The new Commission rate will be deemed accepted if the Owner does not remove his Listing by the time the new Commission is applied. 
The longest terms we have seen are those of Airbnb and if you would like to see some fairly comprehensive control terms, check out this clause:

or
Airbnb reserves the right, at its sole discretion, to modify the Site, Application or Services or to modify these Terms, including the Service Fees, at any time and without prior notice.
or
We (FlipKey)reserve the right at any time, at our sole discretion, to change or otherwise modify the Agreement without prior notice, and your continued access or use of this Website signifies your acceptance of the updated or modified Agreement.
Nothing will change
Terms are too long to read and written by lawyers. The key terms should perhaps be more obvious.  Hotels are much simpler and can position their pricing more easily, also with and without no refund policies.
Warning, T&C's will change without notice
Your T&C's as presented to the guest can change without notice (despite the T&C's that were agreed when signing up). As these often involve one the most critical of rental factors: cancellations, it can impact any business substantially. We have seen both Airbnb and Booking.com change these without warning or notice. An interesting read here to explain further, but check your guest terms regularly. The damage deposit is the next area of focus.
Airbnb changes cancellation terms
The OTA sites all bring business and should form part of a marketing mix, but the key word is "part". Its your product and this includes the Terms under which it is booked!
Comments