This short post questions the levels of stress encountered by hosts in recent years as vacation rentals become more mainstream and less understood by the guests.
Question: Are you getting more stressed about your rental business?
If you answered yes then you probably know the reason why. You are working harder and over a longer period of the day for the same result.
Do you have a solution?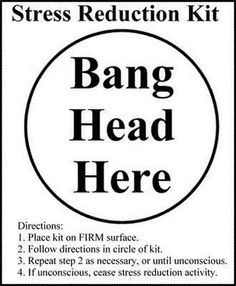 But seriously:-
Why is this happening?
This is a screen shot from a well-known listing site. Look familiar?


Both of these enquiries were answered "off-site" within a few hours, but the colour coding and warning icons will add to the stress levels. 

There will no doubt be people with OCD that set their alarm clock every hour or set a notification alert so they can reply in the 1-2 hour critical response time we are always being told about!
The "guest can't wait" is the normal mantra from these large corporations and this message is pushed through to the hosts.  Hosts and managers may respond in different ways however to a midnight booking request or enquiry:
Hosts and managers may have different attitudes and act in different ways however to a midnight booking request or enquiry:
"Tough, head off to Booking.com then and book a hotel, I need my sleep and down time and to be honest, we don't want that type of guest anyway".
Others will say: "they can wait, after all, they aren't arriving for 3 months and those that want to book for tomorrow can't. I need to know more, ensure the card doesn't bounce and the place is clean".
Some will automate messages to delay a reply and schedule appropriately for a more convenient time. This is often under the control of the admin panel of a listing company which is not that helpful.
Feeling Mad?
The following is an extract from "https://www.mentalhelp.net". I'm not suggesting that anybody has mental health problems, but this business has not been helping in recent years and the word mad has multiple meanings!
Time management methods involve finding ways to work more efficiently….
developing a thorough understanding of all the various steps that must be performed to get a particular task completed
identifying dependencies among steps that may cause bottlenecks to occur
using what is learned from experience executing the steps to improve the efficiency with which various steps may be performed
We all know that the golden egg for the listing sites is "Instant Book", aka hotels.  It's easier to monetize and avoids complex support roles. If all elements creating this stress were under your control then the suggestions above could be managed.  They aren't however!
So is the corporate pressure being applied more focused and deliberate than we really know? Is the use of these messages more psychologically profiled to hosts to elevate stress? Is the stress increase designed to make all hosts roll-over and accept anybody, anytime at any price?
Or is it simply a by-product of their never ending push to increase profit?
The OTA's are always looking for ways to de-stress a guest seeking a hotel room and even have laboratories set up to help. This article is worth a quick read on Forbes.  No sign of help de-stressing the hotelier!
There are a thousand tools out there to help you de-stress the process provided you have free access to the guest's details and these are not compromised on the path to an enquiry or booking.
It's all about communication
Use sites that push your stress levels up, but use them in a minimalist way. It's these systems that are the issue and is a result of the guest-host communication and how it is handled by their systems.
The host is expected to be on-call 24/7, agree to prices and terms that are not tolerable and be uncertain of the guests. Provided the OTA is used, these stressed cannot be removed, just ignored.
We all want happy guests and not grumpy guests. A guest who expects instant gratification, great prices and doesn't read the small print, let alone the obvious text, may well pose a higher risk when staying.
Communication is a fundamental part of society. Rentals are complex affairs and all different.  A lot of information is hidden, your personality is not allowed to show through on your online ads and more information is removed daily. This alone raises stress levels. You may have invested hundreds of thousands of dollars in your property, but you are being treated like a banana, one of a bunch and sold by the pound.
If you could actually speak to a guest prior to bookings, explain, detail, or develop a relationship it would reduce the levels substantially and increase confidence in acceptance of the booking.
How to reduce communication stress?
Direct marketing
Focus on your own direct marketing (websites, SEO, PPC, social media etc). We are sure to see much more of this as the months progress. With direct business, you control how & when you interact with guests.
Smart online messaging
There are a few online tools & apps cropping up that help you communicate with guests through a single messaging platform. These are sales tools which have email templates & automated messages. These will continue to become more popular.
Take the opposite approach: Personal touch & a gentle warning
Your property description and the first few important lines should highlight your  property name, location and maybe a bit of family history, so a guest may search direct and then use the phone or email. The property information is almost secondary these days. Great photos and amenities count, plus keen but fair pricing.
You, the person, the human contact, is the really important part. Airbnb understood this, but that's "live like a local", this is "love the local life".
"George's Fishing Cottage in Maine" is a family home and is personally looked after. We are the Howarth's and being fisherfolk we aren't online 24/7 and can only take phone calls.  Feel free to look us up. You may see a few hours delay in getting a reply from us on these advertising sites, but it's worth the wait!   We know the area really well of course and we can answer any questions you may have. We hope that is OK with you and look forward to welcoming you.  Fishing trips are available".
This personal approach brings several opportunities:
1. The prospective guest researches your name and or your home. Make sure your website has booking drivers itself. "One-hour free fishing tuition if you book direct, plus you save money booking direct"
2. They respect that you work but there may be delays, unless they can find  a phone number and it piques their curiosity.
3. Local knowledge is fundamental, no end of web research can replace this and everybody has questions. Make sure you are the target for this knowledge.
Stress is directly related to communication. It can be heightened by poor or obfuscated communication as found on many listing sites or can be improved by opening the channels and actually "speaking".
It took 30,000 years to develop our social interaction on a personal level. No end of digital data can replace human interaction (yet).
Although I can't print or quote any of this, we are seeing commentary from some large online businesses that recognise conversions are much higher once direct contact is made to an owner or manager and this is a barrier to conversions and their profitability. Expect more stress!
Comments