Foolish marketers fill leaky buckets; Smart ones build solid buckets. The bucket being your "marketing" and water being your potential customers,  it's important to prevent leakage.
In this article, I'll be exploring some of the smartest ways to build strong marketing foundations to maximise efficiently and increase bookings. Improving your websites conversion rate is a good start but it requires a website you can manage. If you don't already have a website or would like a high-converting Rentivo website, please see our vacation rental web builder.
Convert more visitors into customers
People regularly visit your site with little idea of what they're looking for. Often these visitors will bounce. It's important to have a clear interface but sometimes this isn't enough. Lost visitors need guidance, which is easier said than done. Fortunately there's a variety of services with free tiers to help you achieve this.
Capture visitors attention with HelloBar

HelloBar can be used to capture visitors attention by advertising various promotions, offers and information. The above example is from one of our local websites. As it's Christmas, we've created a small popup directing users attention to one of our festive properties.
HelloBar has an amazing free pricing tier with many options including sticky banners, popups, modal boxes and much more.
Grow your visitor email list with SumoMe

50% of leads are not ready to buy (reference). That's why it's important to collect leaving visitors emails. Once you have their email, a series of targeted deals can be sent over time, until they are ready.
SumoMe has a variety of tools for to help capture leaving visitors emails. This technique is especially effective on blogs. People interested in your content are more likely to subscribe. Sending a series of targeted and personalised emails over time is called a drip campaign. It builds trust until they're ready to buy. You can automate this process, which I'll come back to.
Support visitors & gather feedback with Intercom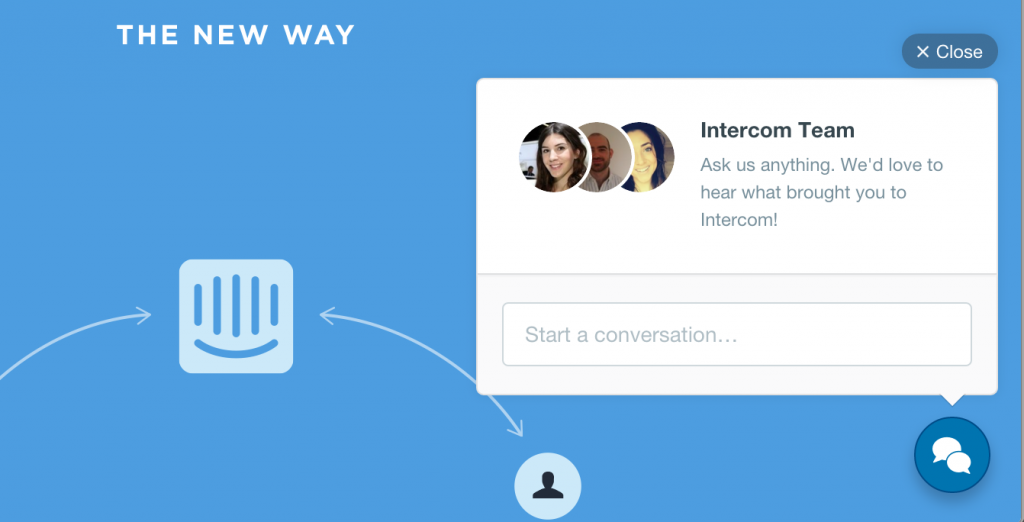 Online support is definitely been around the block, however Intercom is a fresh product and perhaps the best I've seen. With a seamless design, Intercom allows you to turn visitors into customers by:
Quickly answering visitors enquiries
Providing support through the website & booking process
Cross selling properties with availability
Gather valuable feedback and understand your customers/visitors
Use market automation to send in-app notifications and emails to onboard potential guests
Run A/B split tests with VWO
According to VWO, A/B testing (sometimes called split testing) is, "Comparing two versions of a web page to see which one performs better. You compare two web pages by showing the two variants (let's call them A and B) to similar visitors at the same time. The one that gives a better conversion rate, wins!".
There's a wealth of information on how to run brilliant A/B campaigns which you can read  here.  In relation to vacation rentals, split test campaigns are perfect for running small design changes on your website. For example running experiments of variations of text, layouts and buttons to see which produces more bookings! Don't guess what works best, use science and test it.
[mailmunch-form id="193298″]
No metrics, no marketing
I can't emphasise this point enough. Marketing and metrics have a symbiotic relationship. Without metrics you shouldn't be making marketing decisions, without marketing you can't record metrics. Luckily if you're running a Rentivo powered website, all these metrics are available to you!
Before you start any VR marketing campaign it's essential to make sure your website has the ability to track the course of every visitor and the actions they take. This information can be used to:
Track ROI (case study)
Marco runs Google Adwords on his property website. He tracks when a user makes an enquiry or booking request, which registers as a conversion in Google Adwords. This allows Marco to analyse his ROI. In this case, for every £100 Marco spends, he receives 200 visits and 4 enquiries. On average, 1 in 4 enquiries converts to booking and each booking is worth an average of £250. Therefore Marco makes £150 per £100 he spends.
Understand user behaviour (case study)
Using Google Analytics, Maria noticed 80% of her visitors left  after making a search which returned no available properties. She quickly added "related properties" to display instead of nothing. Her bounce rate dramatically improved by 30%, converting otherwise lost visitors into potential guests for available properties.
Best tool for tracking general behaviour: GA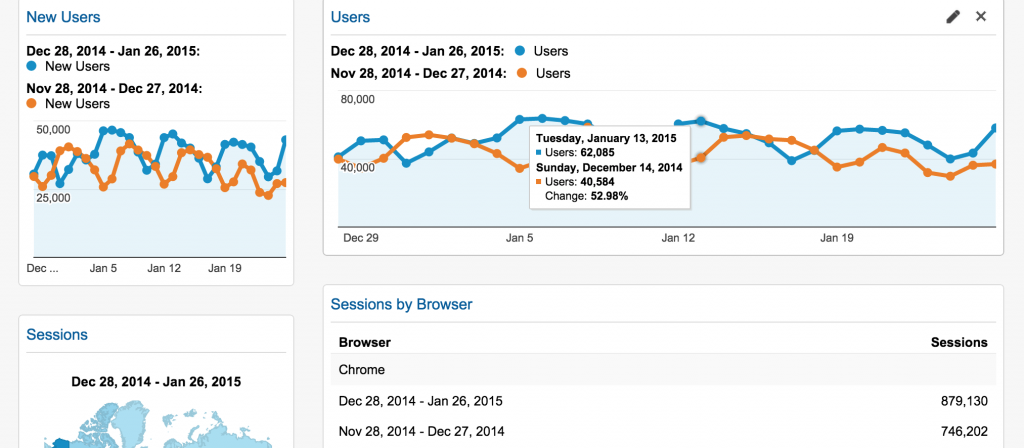 Google analytics is the most widely used website analytics tool. It's free to use and great for recording page views, simple user behaviour, demographics, events and more. However, like all these things it takes time to learn. Fortunately there's a ton of information to get started.
Best tool for tracking specific behaviour: Mixpanel

Learn how people use your website with the world's most advanced mobile & web analytics. Using Mixpanel will help you understand exactly what users are doing and optimise the sales/booking funnel.
Best tool for visualising behaviour: Crazy Egg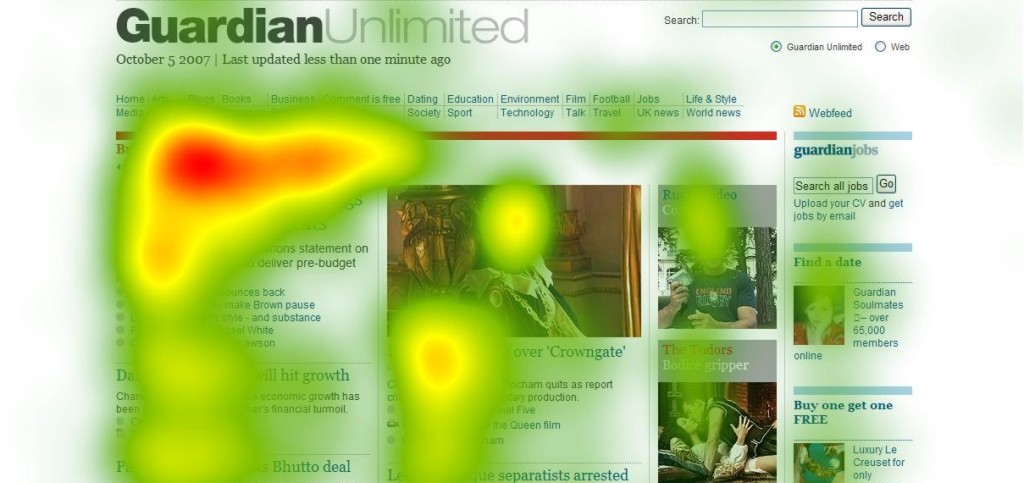 Crazy Egg provides you with all the tools for producing complex heat maps and visual representations of visitor/user behaviour. You can also watch recordings of people using your website! It's cracking for testing the usability of your vacation rental website. Perhaps the booking process is too complex? Find out here.
Installation?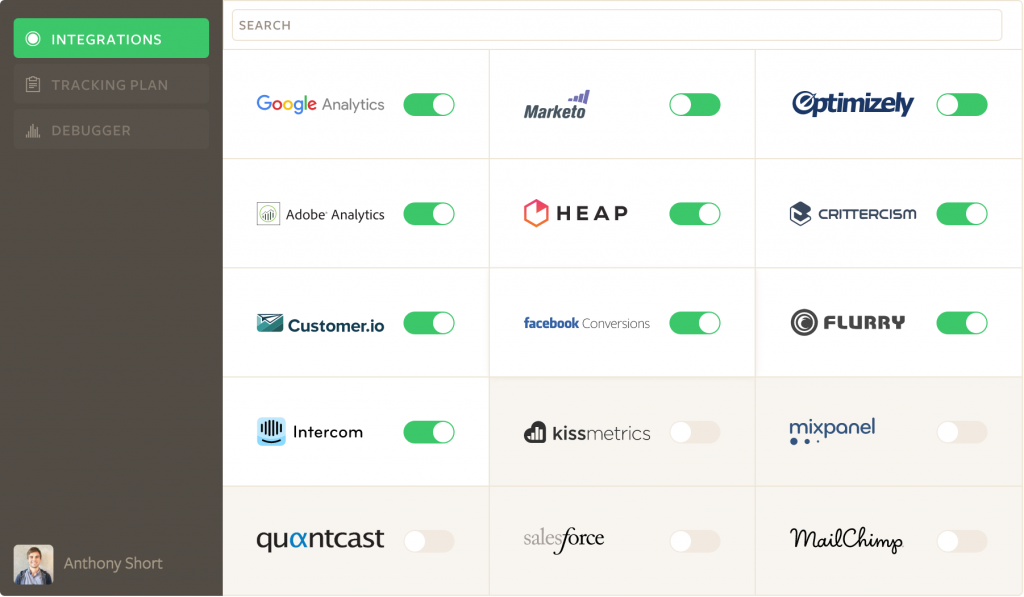 Installing and integrating a million analytical tools is difficult and laborious. Segment simplifies the process by collecting customer data (from one source in your website) and sending it to hundreds of tools for analytics, marketing and data warehousing. Automatically. It only requires installing one piece of code, instead of ten.
Using a Rentivo powered website you can add your Segment key here and we'll handle the installation:

Rentivo seamlessly integrates Segment, allowing you to harness the power of over 100 tools in one click!
Marketing automation
You heard me, you can automate marketing! Recently there's been an influx of new tools and techniques to automate your marketing and other processes. Two of my favourites are Autopilot & Customer.io.
Automatically ask for guest reviews
Gathering valuable reviews is an essential part of any vacation rental business. Once a guest has left, an automated email should be sent with details on how & where to leave a review. Remember to stay personal. Automated emails do need a trigger, otherwise how does it know when to send an email? It largely depends on the system/service you use. Ask your service provider or web developer on how they could implement this.
 Identify & target your promoters
Happy guests = repeat business. Extremely happy guests = free marketing + repeat business. They'll promote your business for you by word-of-mouth. Using Promoter.io you can identify customers likely to repeat or tell a friend. Once identified, send them a personalised card / email with a 10% discount for them or their friends.
Automate the guest experience with Vreasy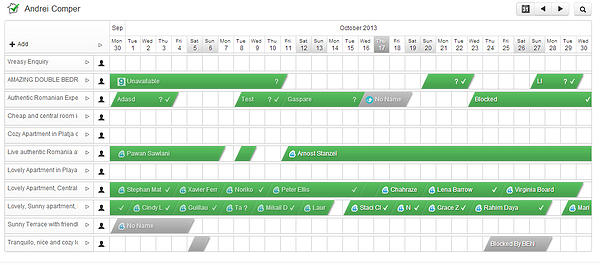 How about automating the experience and ensuring every guest is happy? Vreasy lets owners and managers to sell ancillary services, such as airport transfers, car hire, taxis, local attractions, dining experiences and much more, to their guests….automatically! Guests can even download a mobile application which is generated specifically for their stay.
Additionally, it can be used to increase your booking value because Vreasy shares the money made from ancillary services!
Personalised auto responders
Auto responders, nothing new there. Answering enquiries quickly is essential to securing a booking. People enquire in out-of-office hours (normally at night). Therefore it's important to build an awesome responder so potential guests wait for your reply, or better… book!
Over at vacationrentalsecrets.com there's some great tips on how to build quality email signatures. It's important to make the auto responder personal. Include relevant information, interesting local facts and tidbits. Include a photo or video of you and your team. Don't be a faceless business. When replying, make sure to have personalised email signatures that reflect the auto responder, perhaps a photo of you and your role within the team.
I recommending Google Apps for managing enquiries & auto responders.
Re-use enquiry templates
Over time you'll learn enquiries have similarities. No point in re-writing email after email. Identify re-usable sections of your enquiries and save them but don't become a machine. Make it personal!
Email drip campaigns with Mailchimp
Earlier I mentioned using drip campaigns after collecting visitor emails. TrackMaven defines a drip campaign as:
A method used in direct marketing to acquire customers through repetitive marketing actions. It involves sending marketing information to prospects repeatedly over longer periods of time in order to nurture prospects or leads.
Below is a very simple example of a  two step drip campaign for our VR Weekly publication: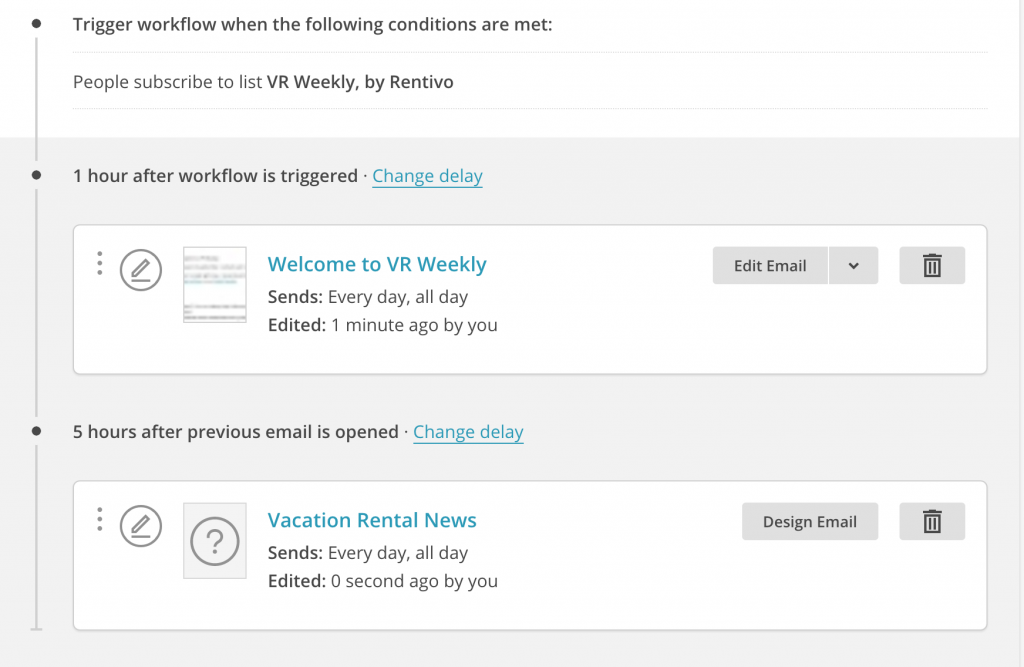 When a visitor leaves their email address, we send a personalised email welcoming them to the publication. This lets them know what to expect and when to expect it. The second email is the "hook".  It's a cherry picked example of our weekly publication with the best content in it.
Taking this one step further, you can send emails based on user actions. For example, if a user doesn't open or click a link in your email for over a week, send them a personalised follow up, asking if they're happy with the service and how to improve.
For really advanced drip campaigns based on visitor and customer actions within your website, I recommend Autopilot.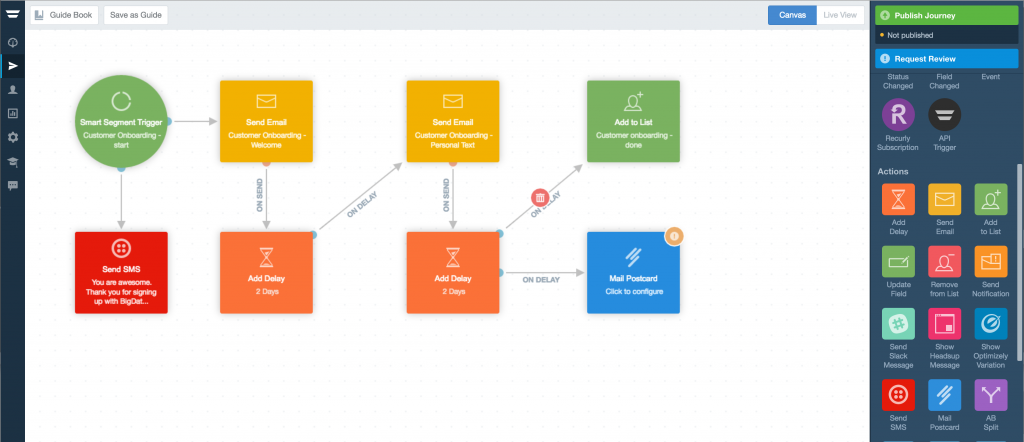 It does, however, require installing code into your website. Segment will handle this for you which can be turned on using our vacation rental software.
NURTURING LEADS: OWNER EXAMPLE
Juan has two holiday rentals. When a visitor tries to leave his website without enquiring or booking a modal box appears offering them a discount in return for their email address. 5% of visitors comply and instantly receive a discount code. If the person does not take action, a series of 3 emails will be sent over the next 2 weeks with interesting and relevant content about Juan, the area and his wonderful properties. This nurtures leads who are on the fence and encourages a booking.
Encourage repeat business & Word-of-mouth: OWNER EXAMPLE
Sarah owns a large holiday cottage company with over 100 rentals. During a guests stay (towards the end), Sarah's system sends a simple automated email asking how they're doing on a scale of 1 to 10 with options to leave a comment. If the answer is good, an email and postcard is scheduled a few days after they depart, with a discount and details on how to leave a review (avoiding negative reviews). Using this information, Sarah's system sends a series of emails reminding the guest about their discount later in the year (with options to share with their friends).
Automate repetitive tasks with Zapier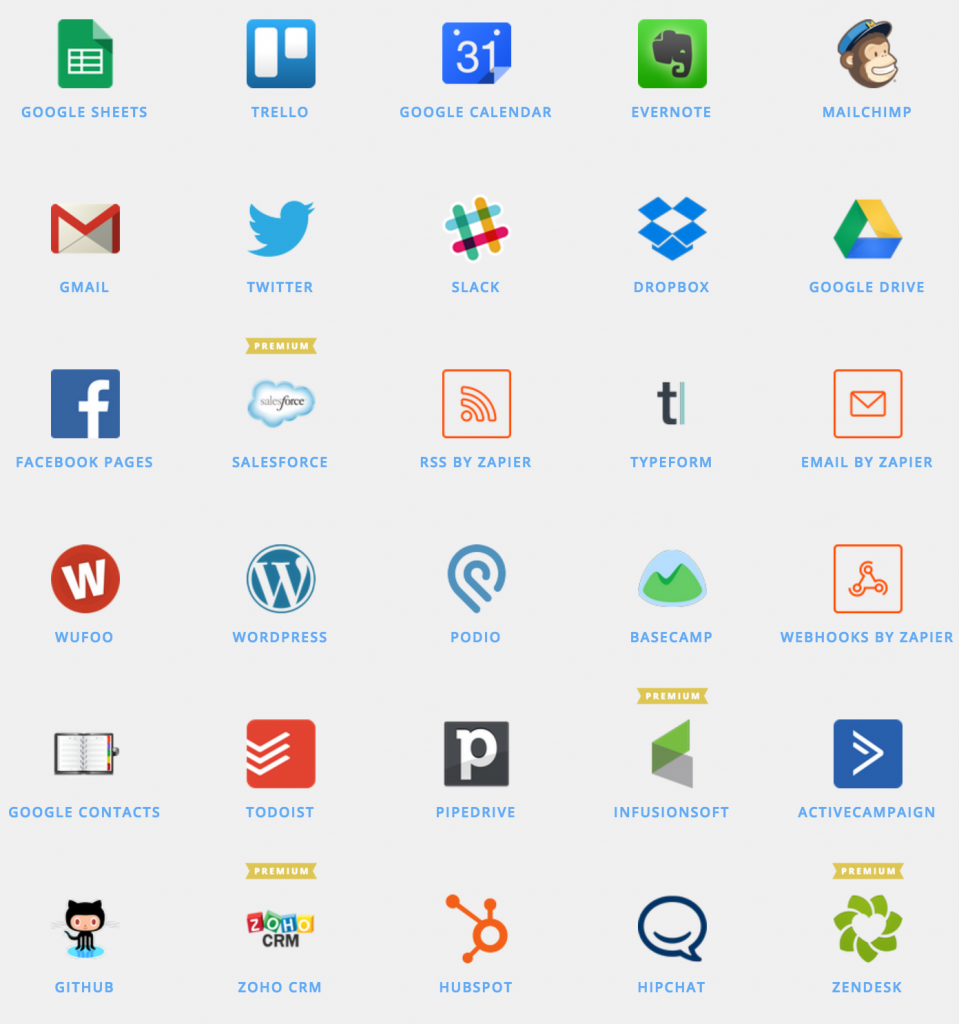 Zapier has hundreds of integrations and is an awesome tool to for automating mundane and repetitive tasks.
HOW WE USE ZAPIER TO COLLECT NAME/EMAILS FROM ENQUIRIES
Our enquires arrive in Gmail. We store their details in Mailchimp (for sending newsletters). Our automated process (zap) is:
On new enquiry in Gmail

Scrape name & email
If email exists

Add to Mailchimp list
This doesn't touch the surface of what Zapier can do! They have a list of popular automations/zaps here.
Vacation Rental Pricing Hacks
It's a difficult task to find equilibrium between number of bookings vs booking value. The sweet spot is where you'll maximise profits.
Airbnb are trying to automate pricing, with algorithms factoring size, location, reviews, nearby properties, amenities and demand. The idea of offering real time pricing like airline companies is attractive because it tries to find the elusive sweet spot. However, it's not easy.
There's many other ways you can strategically price your rentals to increase bookings and maximise profits. Most of the images and information has been taking from an amazing article about psychological pricing by Nick Kolenda. I strongly suggest you read it here: http://www.nickkolenda.com/psychological-pricing-strategies/. Below are some examples I've extracted which relate to vacation rentals.
Expensive rentals vs cheap rentals
When considering a holiday, guests tend to be emotionally driven if the price is low and rationally driven if the price is high. This is an important factor when considering how to price your rentals.
Round your price if it's Low
When the price is relatively low, round your numbers because it plays to the emotional brain for impulse purchases:
USE EXACT FIGURES IF THE PRICE IS HIGH
The opposite is true when your price is high. Thomas, Simon, and Kadiyali (2007) analysed 27,000 real estate transactions. They found that buyers are willing to pay more using exact figures for example $362,978 vs. $350,000!

Use a decoy product
Offering a decoy product is an excellent way to give your rental some reference. People will naturally compare the two versions of your service, one without the decoy product and one with. A famous study was carried out by Ariely (2008) used on the economist magazine to compare three versions of their product:
Web only $59
Print only $125
Web & print $125
Can you spot the decoy product? That's right, without the "print only" option, people couldn't accurately compare the options.
When "print" wasn't included the results were: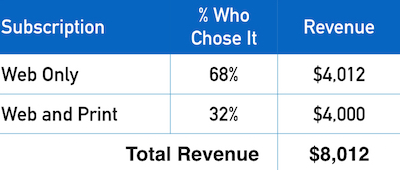 With "print" (decoy product):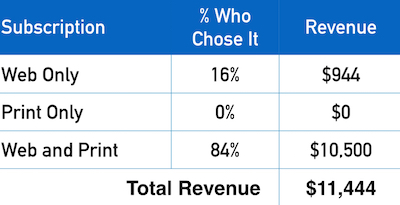 "By adding a similar, yet worse, version of your expensive product, you influence the comparison process. Suddenly your expensive product becomes more appealing" – nickkolenda.com.
Applying a decoy product to your vacation rental
3 nights $350
3 nights + champagne $350
Maximise perceived discounts
When offering discounts for your vacation rental it's important you maximise the perceived value of them. That way, guests feel like they're getting the best deal.
What discount  seems like a better deal on a $50 Airbnb room: 20% off vs $10 off? They're both the same, however one performs better but which one?
THE RULE OF 100
Jonah Berger (2013) suggest the rule of 100 when choosing between a percentage or absolute value off the total.
When your price is under $100, use a percentage discount (25% off).
When your price is over $100, use an absolute value ($25 off)
In both cases, you'll be choosing the discount with a higher numeral. This tricks people's perception of magnitude.

Provide a reason for the discount
Discounts have negativity connotations associated with them. It's important to be transparent with potential guests and provide a reason for the discount, such as "Christmas" or "Out of season" discount.
Make discounts easy to compute
Quite simply, avoid prices with precise numbers. With discounts, you want to maximise the perceived magnitude. Discounts with precise numbers can be detrimental because they will make your discount seem smaller.
Conclusion
This article includes a variety of hacks and tools which I've picked up over the last few years to increase direct bookings and maximise profits. They require you command complete control over your website, marketing and rental business. Many of the ideas I've conveyed aren't new, however are rarely employed in the vacation rental industry. I hope they'll provide you with a competitive edge and, more importantly, decrease your reliance on large marketplaces. Good luck.
Comments