We have all heard of cookies and seen the cookie tracker approval or denial "pop ups" on websites. Have you ever really wondered what they are and what they do?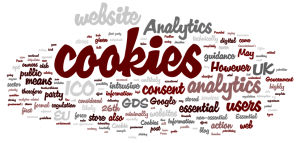 What are they?
Also known as browser cookies or tracking cookies, cookies are small, often encrypted text files, located in browser directories. They are used by web developers to help users navigate their websites efficiently and perform certain functions. Due to their core role of enhancing/enabling usability or site processes, disabling cookies may prevent users from using certain websites.
Cookies are created when a user's browser loads a particular website. The website sends information to the browser which then creates a text file. Every time the user goes back to the same website, the browser retrieves and sends this file to the website's server. Computer Cookies are created not just by the website the user is browsing but also by other websites that run ads, widgets, or other elements on the page being loaded. These cookies regulate how the ads appear or how the widgets and other elements function on the page.
What do they do?
So what does this mean in the world of Vacation Rentals or more importantly the marketplace and how guests are tracked and analysed to determine who gets to see what properties, where and when.
If you want to see how many cookies and what types are being used try using a browser plugin and visit a VR site. It makes interesting reading!
Using a browser plugin, from Ghostery.com, for Chrome we tried a few sites you will be familiar with and these are the results.
What are these cookies. Lets take a few samples and refer them to the suppliers websites:
The first on HomeAway ADARA: The company says:  "Our digital campaigns work because we precisely deliver the right message to the right consumers at the right time. For example, we know when someone needs a hotel – using real transactional and intent data, while most advertisers guess who needs one based on browsing behaviour – implied information."
LiveRail:  "A Facebook company: Our technology is used by hundreds of major publishers who benefit from sophisticated analytics, advanced controls, and unparalleled transparency, ultimately generating maximum yield for every ad impression."
PerfectAudience:  "One solution for all your retargeting needs"
Sift Science: "Sift Science's machine learning is device, business and geography agnostic. Stop all flavours of malicious behaviour with flexibility and intelligence."
Undertone: "Undertone is the leader in high quality cross-screen digital brand advertising at scale. Our award-winning, proprietary digital advertising formats enable brands to stand out online and engage users with stunning creative experiences on top mobile and desktop properties."
The majority of the cookies are related to advertising management, tracking, and visitor analysis, some are site performance analysis tools.
Not everybody likes being tracked and offered up "Best Match", some people like to simply discover and browse without influence.  If you are on subscription sites or sites where your personal details are logged this can run over into cold calls, snail mail and more as data is sold on. Your habits, loves and desires may all being tracked and analysed through your browsing experience.
AD/COOKIE BLOCKING
Ad and script blockers give you control over your browsing experience. They can block ads on the sites you visit and kill third-party scripts and widgets that send your data to who knows where. If you don't know how to use them however, these tools could rendering the sites unusable until you figure out what to allow and what to block.
Here are two businesses that provides free tools that perform well , but a little research on extensions will reveal a wealth of tools:
https://disconnect.me/
and
https://adblockplus.org/
Comments