Two weeks ago we sent out an email to our reader base asking for information on their use of the major OTA's (Online Travel Agents, such as HomeAway, Airbnb & VRBO).
We were particularly interested in brand opinion, overall attitude, friction points and usage statistics.
The complete survey results (covering every question) can be found here: https://rentivo.typeform.com/report/FTOdtv/GNyi.
Who took the survey?
This was a simple survey and we received just over 500 completed responses, which was 57% of the number of visitors to the survey. 70% responded on PC's and Laptops, 22% on smartphones and 8% on tablets. 51% of men and 49% of women responded. This data alone is very interesting.
OTA's that were included
The only OTA's that were included were those that we believe constitute the vast majority of rental bookings: Booking.com (and Agoda), Tripadvisor, HomeAway, VRBO, FlipKey and Airbnb. We know that many owners and managers are aligned globally with certain OTA's (ex listing sites) and this causes some confusion on who is listing and how far it is distributed. Our next surveys will drill down more specifically.
The full general results may be found on the link below the overview. We have however both summarised and collated more detailed information from the submitted data.
Results overview
In this survey the ratings on certain questions were allocated numbers from 1-10, 1 being the lowest score and 10 the highest. Although the average score to the first question:
How important do you think OTA sites will be in your future booking/rental business?
Scored 7.13 / 10
the question below sees a lower score.
Overall are you happy using OTA's to make bookings for your property(s)?
Scored 5.38 / 10
Which of the following factors would most influence your decision if you were to use an OTA, or already are?
The top four factors that influence an owner or manager's decision to use an OTA are:
Low commission structures (35%)
Can adopt your booking rules (29%)
Guest brand strength (19%)
Ease of integration and updating (17%)
These results align with the many hundreds of comments we have received, some of which are highlighted below. There is a recognition that OTA's are becoming more dominant and are expected to increase their market share further. However, with a distinct lack of enthusiasm from traditional hosts.
The comments received from the survey follow closely to the commentary which has been seen across many rental forums and the press in general.
The top three comments towards OTA's
Necessary evil (255 people)
Hard to work with (250 people)
Charge too much (170 people)
We were particularly interested in brands and the perception of these in the marketplace. Many hosts will choose an OTA to try or test and see if results follow. Many in this survey are old hands and know the ropes but have become disillusioned and are seeking new ground. The two questions below:
Which OTA has the best reputation with guests, in your opinion?
Imagine that the OTA's were like soccer or baseball teams and are vying for top spot in the league tables. Who would get your support to win the day (not who you think will win, but which would you cheer on, if you had to!)
Both saw Airbnb as the leader,  9% and 11% higher than the nearest rival!
Detailed Analysis
The results link below will give a summary analysis.  We have extracted more detailed information and presented this in a graphical format with commentary.
Major OTA's used by country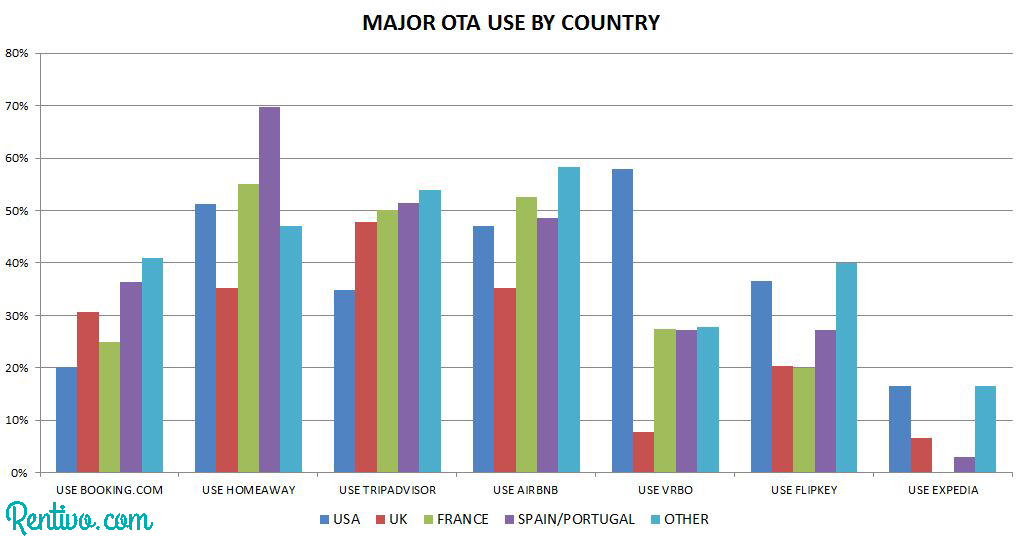 As you can see in the actual survey report most replies came from the USA (33%), UK(31%), France (8%) and combined Spain & Portugal (6%) and Other (22%), stretching across a further 38 countries.
A few small surprises: The UK uses TripAdvisor more than HomeAway but Airbnb is catching up to both. Booking.com showed a surprising percentage bearing in mind the commissions paid and highest on the league table for this.
The USA is a VRBO hotbed, as expected, as is Flipkey. Actual Expedia use or knowledge of its use by hosts is low.
Spain & Portugal (popular UK destinations) are combined but will have seen OwnersDirect clients be moved onto HomeAway.co.uk. The recent "enquiry drop off complaints" seen in this region, with Homeaway, parallel its historic use of the almost defunct listing/advertising model.
Major OTA's used by region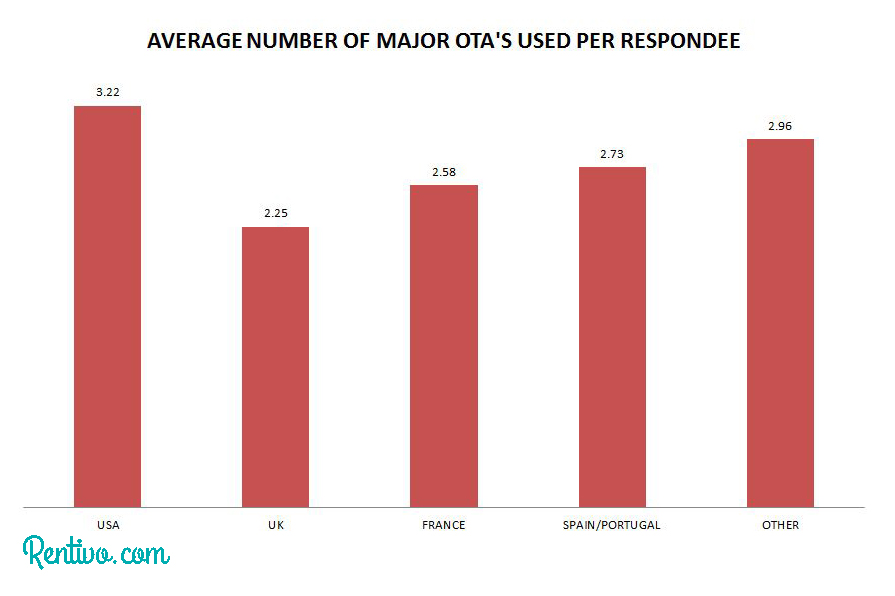 As each region of the world has its own business approach we thought it would be interesting to identify which countries are most likely to use OTA's and how many on average.
We know the UK is very reserved and manager margins are often less than in other parts of the world. The USA is at the commercial forefront of the OTA development in rentals.
Central Europe and many far reaching destinations, who replied (e.g Thailand) often adopt a more "hotel" style booking model due to local cost structures and breaking new ground. We would expect to see this increase and use a greater number of channels.
The highest number not graphed (with 11 respondents), was with 3.85 OTA's in Italy. No surprises there!
Note: We believe language barriers in some countries mean non-native speakers will use OTA's for convenience and in different time zones. Italy would suit this model.
Number of Major OTA's used per owner / manager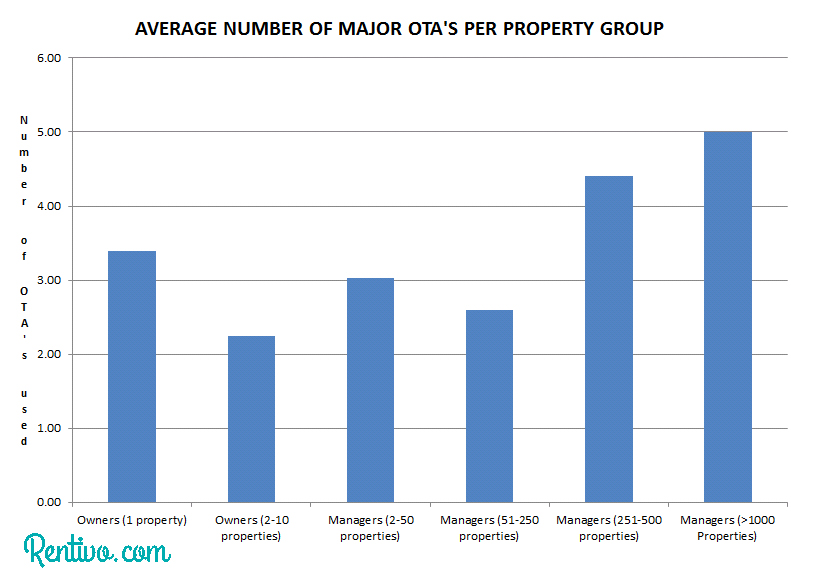 The only real take on this relates to larger managers. The complexity of locations compared to manager or owner sizes and numbers in each group is likely to make significant differences and would need a much larger survey group. We do suspect owners with single properties will see more challenges in working with OTA's than managers for technical reasons.
OTA importance amongst age groups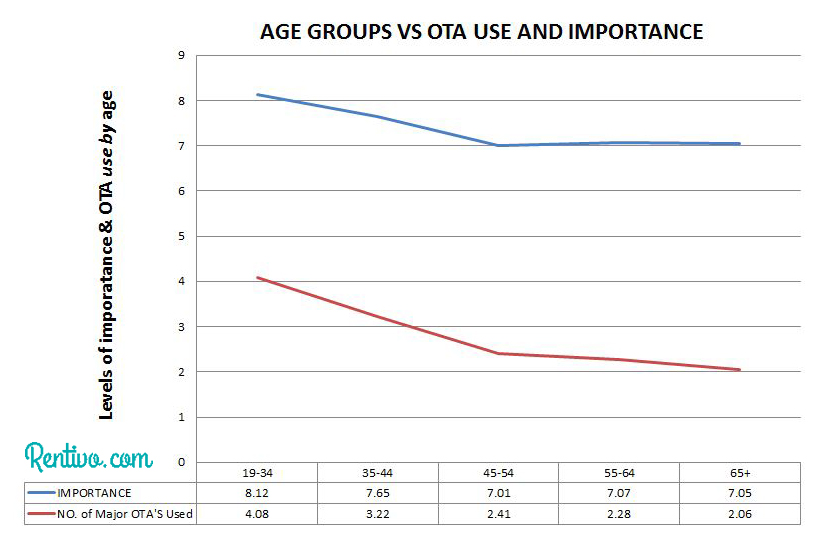 Many owners and managers are of an age where their opinions and actions may well differ to those of the younger generation. We would expect owners & managers to be older as owners of properties or businesses. The answers exposed this and the age groups who replied are shown below.
Age groups that participated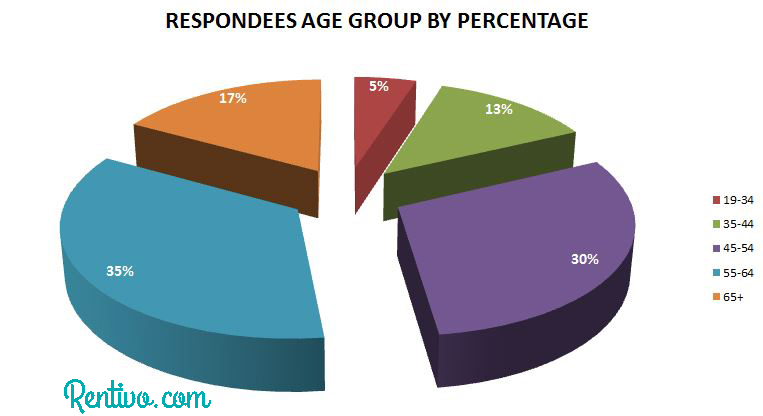 Unlike hotels which often have a professional career structure and educational expertise (marketing, management, front of house, accounting etc), vacation rentals tend to have grown organically with a "jack of all trades" approach, often through economic necessity. This will no doubt reflect and appears to do so in the results.
Average commissions charged by OTA's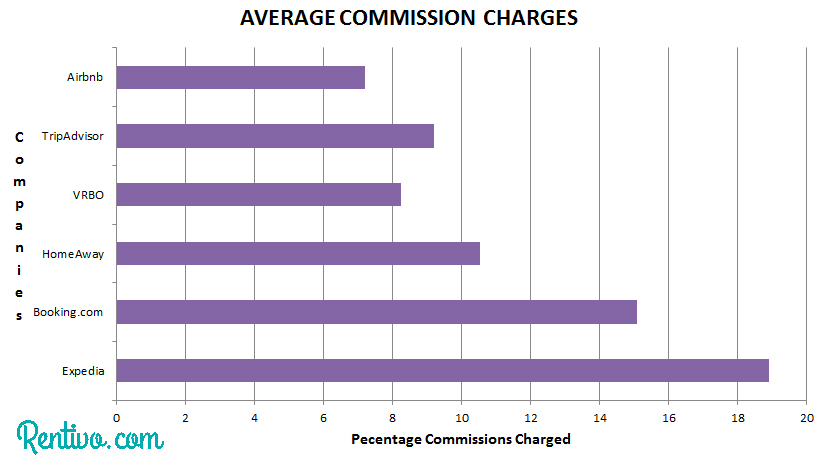 Note: We have noticed discrepancies in some answers and suspect a few of the respondents may have included the total amount guests pay on a couple of OTA's.
Attitude & comments towards OTA's
We will be extracting many comments (over 450) and publishing many to illustrate the attitudes to the OTA interest in Vacation rentals. Only a handful are noted below.
However, even a snapshot of these has a common thread that relates to acknowledging OTA power, but in equal measure significant discontent.
90% of comments relate to:
The OTA's bottom line
Increasing a hosts loss of business control
Reducing communication with guests
Overall lack of respect for the business at grass roots level
Comment left by owners & managers:
I don't like the growing tendency that obliges homeowners to respond only through the OTAs' system
I advertise on Owners Direct but I don't like the way I am being 'bullied' into using their booking system.  I prefer to communicate with my prospective guests by email and not give commission to the OTAs.
Loss of own company branding and customer base in control of ota You may fine it hard to leave and rebuild your client base.
I like that the number of people who see our business has gone up. I dislike the direction of their whole model.
I like nothing about them mainly because they want too much control over how we want to rent our short term rental home.
They fill in the winter months.  OTA's are the place lazy people shop for their holidays.
Exceedingly frustrated that after 20 years of running this business, and quite well I might add.  OTA's come in and starts making it impossible to CONTINUE running it as we always have.
Full (raw) survey results
The full survey results are automatically summarised by TypeForm. They can be found on this link:
https://rentivo.typeform.com/report/FTOdtv/GNyi
Are OTA's like HomeAway, VRBO & Airbnb controlling your business?
Well, we're crowdfunding a new future and it's going live in 4 weeks!
Rentivo is building the ultimate vacation rental platform. Help shape the direction of Rentivo and control your future.
Take control and get early access
Comments