More and more owners and managers are receiving calls from prospective guests with their concerns about booking a property.
This is becoming much more prevalent as the net becomes even more overloaded with rentals, portals, meta search engines and confused with changes to terminology, rates, terms, fees and more.
Like all things Internet it is also now seeing increasing levels of fraud taking advantage of the confusion and basic human nature. A large amount of fraud is phishing based, attempting to appropriate a listing account or private account. In rentals the mis-direction of funds by fraudsters direct to a bank account is the final target.
The Issue With Trust
This is all bad news as it shows a lack of trust in the industry and the small guys in particular. Trust can make or break businesses, especially in a world where the news can carry quickly and review sites are considered fair game to complain rigorously.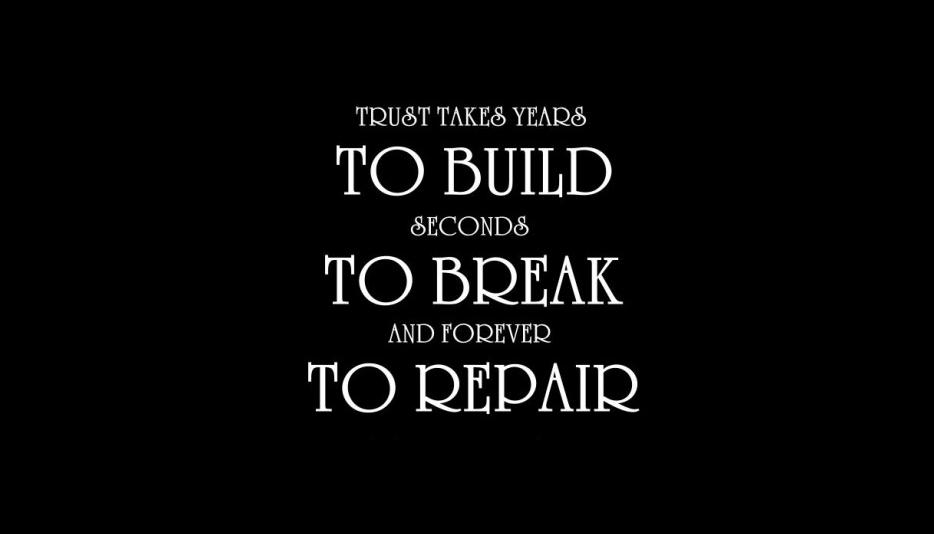 Conversely this lack of trust could be taken on a positive light as it could mean more contact with guests as they seek the truth and as we all know personal contact means conversions!
It also means that to be seen at trustworthy you need some form of "proofing".
When confusion reigns, fraudsters exploit the holes in these systems and via social engineering , taking advantage of peoples natural desires to get bargains and not miss an opportunity.
These frequent calls from genuine guests include questions on a company's status, the advertising sites they use and a managers relationship with owners.
The questions and comments all reveal a lack of understanding by guests of the relationships between owners, managers, advertising sites and OTA's.
This is a fractured global business compounded  by lack of disclosure and deliberate obfuscation.
Not only is fraud apparently on the increase, but other areas of what was a transparent industry add weight to these concerns. Many owners and managers will be familiar with these comments:
VRBO
VRBO – I thought this was owners only, is this  a scam?
Booking.com
Booking.com – "I didn't pay you I paid Booking.com. I'm calling my card company right now.
[mailmunch-form id="193298″]
Losing Thousands
Last week on UK TV, the BBC, "Rip off Britain" programme gave some dire examples of guests booking non-existent properties and these properties also being multi-booked for the same period.
The property was advertised on OwnersDirect (HomeAway) whose reply was that by the end of 2016 all bookings would be made on their website only and therefore completely safe. (You have been warned).
The HomeAway advisory page actually advises on payments, but is a background page and not impressed on people as much as the banner flashes to pay via HomeAway of course.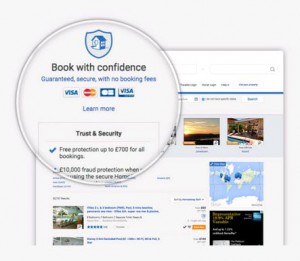 This is their written advice:
Ask the homeowner or property manager if they accept HomeAway Payments when booking your holiday rental. To ensure a safe transaction, we recommend you pay for your rental online with HomeAway Payments. If an owner does not use HomeAway Payments or doesn't accept credit cards, please ensure you always call the number published on the property listing and confirm your reservation and payment method before proceeding with the payment. Never pay by cash in advance or instant money transfer services such as Western Union or MoneyGram. These payment methods are highly susceptible to fraudulent activity and if used you will not be eligible for any of the payment protection guarantees offered by HomeAway
The internet is without doubt a breeding ground for fraudsters and high value monetary transactions are a primary target. Vacation rentals with bookings of multi-thousands of £'s and people trying to save money is an ideal environment.
So what do the independent experts say?
One of the most visited financial advisory sites in the UK is "Moneysaving Expert". Their advice on booking a holiday home is this:
DON'T get tricked into booking a non-existent property
DO pay by credit card for extra safety
DON'T use instant money transfer services, eg, Western Union
DON'T think travel insurance will cover you for fraud
They also offer this advice, which means that owners or managers need to be contacted first:
"Once you've found a property, try calling or emailing the owner to ask if they can drop the price. You're negotiating directly with an owner, so they have complete discretion.
They are more amenable to haggling less than four weeks before the date or at slower times of year, when fewer holidaymakers are after their pad.  You could also try calling or emailing owners of similar properties nearby to see if they can beat the price. Though remember aggressive haggling's usually a mistake, as it annoys them. If you're polite, charming and give the impression you'll be a tidy, responsible guest, you'll get much further."
There are endless examples of this type of advice. TripHackr.com follows the same advice and even recommends some well known sites. All sound advice except he is missing the new rules or mediated or no contact bookings!
With such an increase in fraud, the writing is on the wall for this industry as more and more people are cautious of scams, online transactions and humanity in general.
The level of fraud on bookings is still tiny, but like terrorism, the effects of a single episode are quite personally damaging and are very newsworthy.
If the level is so small, then why do the OTA's make such a big noise about it, surely this damages the industry further? The answer lies in two areas:
1. Online trust of a site that fails a guest by showing non-existent properties will also be newsworthy, especially the larger businesses whose track record of helping in these situations is very poor.
2. Payment made through an OTA leverages higher commissions, more data access and resale opportunities, so this is a commercial driver to increased revenue.
We tend to think that large brands have a lot of trust with the consumer, but the tide is changing and the sharing economy is adding to this complexity.  They are not as safe as they were especially where automation is the force behind the EBIT drive. This article: "In Brands we Trust, Why blind confidence in big business is suddenly being questioned" from Virgin in 2014 seems to have it right.  In September 2015 69% of British people apparently don't trust major companies or organisations.
Safe is easy
The simple answer, to the losing of thousands, that the BBC gave to the viewers was more sensible and like Moneysavingexpert.com, was to pay by Credit Card.  Section 75 of the Consumer Protection Act, will guarantee you a refund if the property does not exist or allow a recharge for gross misrepresentation or other issues. Paying via HomeAway is the same, they use the same rules!
We know many owners and some managers are getting quite annoyed by being perceived as dishonest, as they are decent hard working people who have been accepting bank transfers and non-card transactions for years and adding another level of complexity and cost is just more to deal with.
The guest however knows none of this and with so high levels of fraud in the world today, they are naturally more cautious! Trackable, online secure payment systems supported by card terms is popular for high denomination purchases.
It's pretty clear that advice to use a credit card on an OTA is somewhat of a Trojan horse to control the booking process.  This increases product sale management opportunities and more profitable monestisation for these portals but it does however make sense from a guest's perspective to pay by card.
HOWEVER it makes no difference if a guest pays you directly to your merchant facility or if they pay an OTA.

From a guests perspective they are covered by the card terms anyway. From yours you have a booking, direct contact and immediate cash flow and better re-marketing opportunities.
There is more of a problem adopting off-site portal payment systems. these are: Less guest/owner interaction, reduced resale opportunities and margins.
1. Adopting a "non-contact" booking mechanism means you get the guests regardless of who they are and with their own unadulterated expectations. You may also lose a significant percentage of the booking and may have limited contact details even after booking.
2. Adopting a mediated contact (no contact details revealed) and booking mechanism means you have more opportunity to converse, but like the system above money is lost, payments may be delayed and a lot is lost in translation.
The invasion of the VR space by the large OTA's will without doubt push for less communication and less personal interaction.  The free to list, only pay when you get a booking looks attractive to many new renters, but has hidden dangers.
The OTA's are very guest centric, the product is almost irrelevant provided it exists and can be reviewed. Token gestures are made toward property upkeep, presentation, insurances and guest experience etc, but probably more for traffic purposes than real inventory concerns.
Volume, reviews and booking process with all manner of experts advising on the frictionless routes to bank deposit is the main objective.
These are not charities, they have shareholders.
Re-Establishing Trust – "Financial Proofing"
So what can you do to ensure guests feel secure in their booking, that there are no unexpected issues on arrival or departure and the holiday home is suitable?
Simply compete with the OTA's strategy even if you use them as part of your marketing. They have invested billions in the pyschology of booking, yet you control the purse strings.
Rates & Data
Surely the best rates are direct and the most up to date information is direct. Promote it!

Communication
Is best handled direct. Make every attempt to keep it this way. Bend but don't break! Ensure you have phone numbers on your adverts and sites. Add photos, so you add familiarity. Write a short background to you and your business, to create association with prospective guests.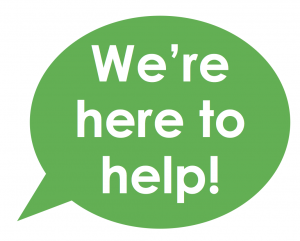 Payments
This is the big one and the way the OTA's are closing the door.  This can also be direct to you and therefore a guest needs to know this. This does mean you need to have the ability to take credit cards online, over the phone or via secure payment links.

If you do not appear to have financial proofing in place you stand less chance of securing a direct booking. Credit cards will without doubt increase any chance of a booking substantially, even if it is not used, it is financial proofing and evidence of your standing as a business or as an individual.
Banks are risk averse, some insist on security deposits, some charge monthly with set up fees and lots of papwrwork.  There are however lots of services who will offer terms and deals and assist in securing your own facilities.
Technical Challenges of Financial Proofing
The second challenge is always technology. The big guys have it sorted, but you may have a WordPress or Wix website and cannot see how to integrate prices, or online checkout, in a PCI compliant and frictionless manner.
Don't worry about that, most guests still enquire and want to
talk (less than before, but…), so when they want to pay send them a payment link from your card provider for that best price.
You could even include some comments about the price on the OTA's.
Here is one we prepared earlier!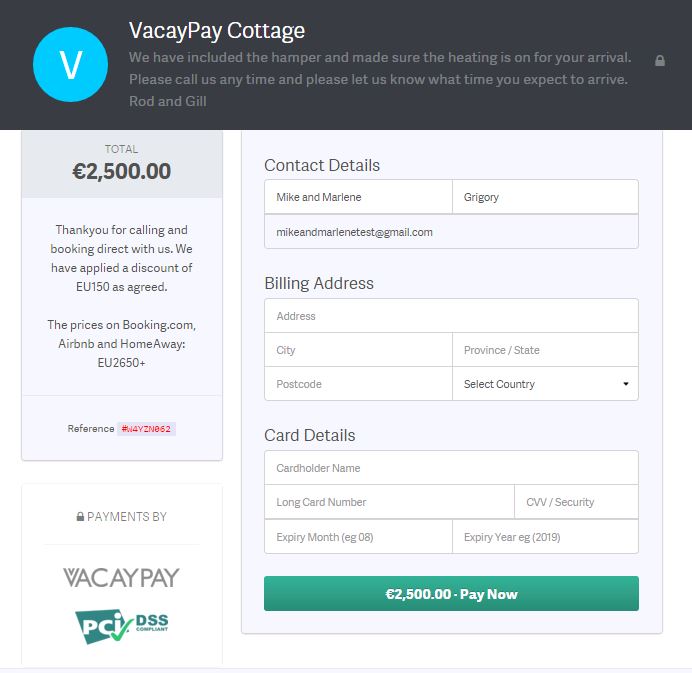 Is it expensive to get Financial Proofing?
If you are in Europe and guest cards are EEA sourced, you really shouldn't be charged more than 2% by any merchant or processor or need to pay any monthly fees or setup costs. Guests are more often than not, happy to pay this extra for peace of mind, or add it into your tariffs. There are some countries that still struggle to get card facilities within the EU but is coming.
Also ensure that you can provide convincing payment links and display the card facilities on your website.

Warning
DO NOT store card numbers on your website, retrieve them and take via a manual terminal offline. Storing card numbers is an absolute no-no for the vast majority of businesses. Ensure your card provider allows online e-com payments, that you can create good payment links and quotes for guests and cards are tokenised for immediate and future use.
Comments