HomeAway are pushing owners & managers to remove their property names from listings in order to reduce "leakage". We discuss why this idea is preposterous and how it doesn't apply to similar industries. Here's why you should promote your name and not become a faceless "no name brand".
Listing Title; can you omit the name of the villa?
The quote above is part of a recent email correspondence from HomeAway. The full transcription is further down the page!
Over the last few years, millions of words, literally, have been spoken about your "own brand", take "control of your business", "rental independence" and more! Hotels have been shouting it from their rooftops more recently and the VR market started on day one!
What is "no name branding"?
Imagine a strong brand without a name: "The smartphone, you know the one, it's expensive white and has a shiny screen", or "just order it from that big online shop that sells everything". Even at this level, you may guess correctly who they are, because they are global and have a vast reach.
However, imagine this question between friends:
Question: "Where did you eat last night? "
Answer: "You know the restaurant around the corner from the hotel, with a poster of Italy in the window". I found it on the internet but it has no name. I wanted to check out the full menu and talk to them about my son's allergies. I couldn't as the site didn't have any contact details and I couldn't find it as it had no name. Foolishly I booked it, but we retired to the hotel early as my son had stomach pains".
Question: "Where did you stay?"
Answer: "At that hotel with no name, just around the corner from the restaurant with no name!"
It's ok for hotels and restaurants to have a name
Check out the hotel and restaurant websites such OpenTable or Expedia.  Search for a restaurant or a hotel to stay at and you will see the names immediately. This is an unspoken rule that needs no enforcing or debate. If you don't know where you are going, if it cannot be researched further due to lack of identity, you may well move on. It's deeply suspicious if the name is hidden!
Vacation rentals are different (apparently)
The following is the actual text from HomeAway to a management client concerning the use of brand/property names.
Actual correspondence from HomeAway: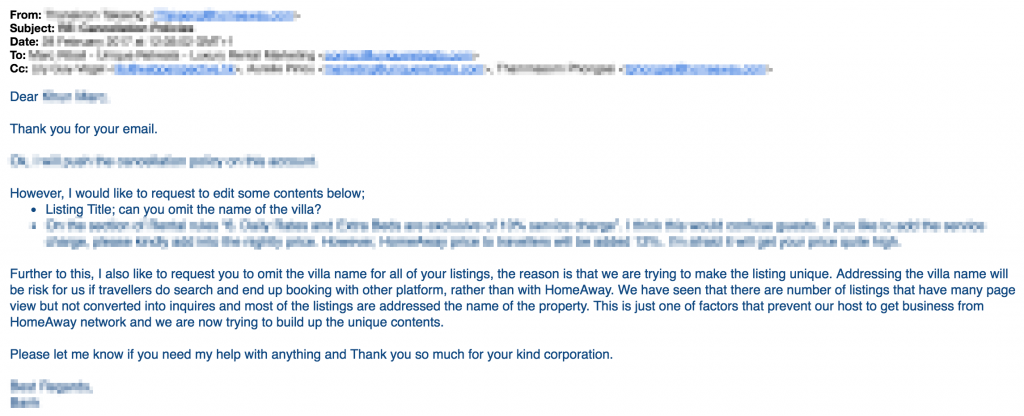 Listing Title; can you omit the name of the villa?

I also like to request you to omit the villa name for all of your listings, the reason is that we are trying to make the listing unique. Addressing the villa name will be risk for us if travellers do search and end up booking with other platform, rather than with HomeAway.

We have seen that there are number of listings that have many page view but not converted into inquires and most of the listings are addressed the name of the property. This is just one of factors that prevent our host to get business from HomeAway network and we are now trying to build up the unique contents.
The impact of "no name branding" on bookings
It's obvious why they hide the name, the email address and insist on payment and communication via the system. "Financial Leakage". TripAdvisor and its network have been doing it for ages.
Realistically, apart from denigrating all the hard work you have put in to give your holiday home its personality, the guest is simply selecting from an anonymous collection of images and text. Are they comfortable doing this?  Does it cheapen the product and impersonalize a personal market?
How long will it be before reviews are not allowed to mention the owners names or the properties actual name?
Will these moves not only distance the asset owners and managers, but also the guests?
It's wasted marketing spend – no loyalty, no trust, no direct bookings
Hotels and restaurants have multiple booking opportunities. Rentals have one per night or one per week and the marketing spend is, therefore, precious in such a competitive environment. To spend money and see poor conversions is a shareholders nightmare.
The only way to improve this is to plug the holes and increase the margin through the application of pressure points. Private brands are one, cancellation policies is another and trust messaging the third.
What all these companies really do not understand is that the loyalty has been lost and direct booking objectives are inversely proportional to the lack of corporate trust.
Don't be a "no name brand"! Here's what you can do…
Add a photo with your property/brand name on it
Make sure your property/brand name is included in the texts & descriptions
Ask your reviewers to mention your property/brand name
Offer a bottle of wine or a free hamper etc, but mention it needs arranging before a booking can be made.
Comments